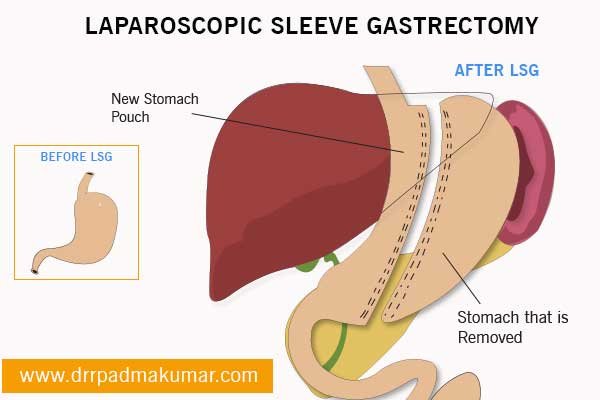 Laparoscopic Sleeve Gastrectomy
Laparoscopic Sleeve Gastrectomy is a surgical procedure performed for weight loss in Obese patients. The outer margin of the stomach is removed laparoscopically to restrict the amount of intake of food. This leaves the size of the stomach to about 15% of the original size of the stomach.
Read More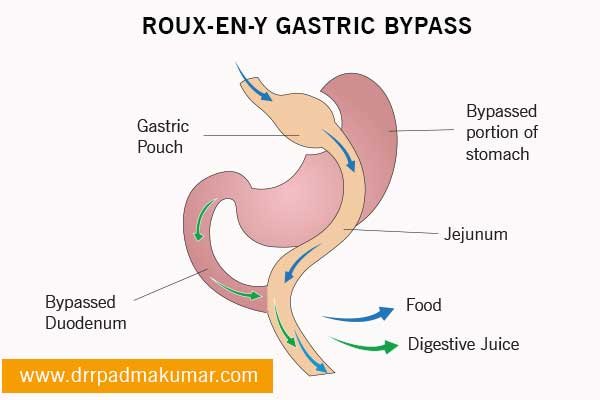 Gastric Bypass – Roux-en-Y
Gastric Bypass is also done laparoscopically. This is also a surgical weight loss procedure. The stomach is divided into a small upper pouch and a large lower pouch. The small intestine is then reattached to the pouch that creates a bypass for food.
Read More
Mini Gastric Bypass
Mini Gastric Bypass is also another weight loss procedure done laparoscopically using a laparoscope
Laparoscopic Hernia Repair
Different Types of hernia can be treated laparoscopically. Inguinal Hernia, Hiatal Hernia, Ventral Hernia, Obturator Hernia, Femoral Hernia, Incisional Hernia, Umbilical Hernia
Endoscopic Thyroid Surgery
Endoscopic Thyroid Surgery is a scarless thyroid surgery procedure in which the thyroid surgery is carried out endoscopically via small incisions made near the axilla. The whole thyroid or part of the thyroid can be removed endoscopically.
Laparoscopic Appendectomy
Appendectomy is removal of the appendix.
Laparoscopic Cholecystectomy
Removal of gallbladder.
Laparoscopic Splenectomy
Removal of spleen
Laparoscopic Bowel Surgery
Laparoscopic Gastrojejunostomy
Dr. R. Padmakumar
MBBS, DNB, MNAMS, DipALS, FAIS, FIMSA, FCLS, FRCS (GL)
Senior Consultant Laparoscopic and Metabolic Surgeon &
Director - Verwandeln Institute (Transforming Lives)
CMD - Keyhole Clinic, Metro Pillar no. 448, Edappally, Kochi, Kerala, India
HOD - VPS Lakeshore Hospital, Maradu, Kochi, Kerala, India
(Specialist in Laparoscopy, Hernia, Cancer, Obesity Surgery or Bariatric Surgery, Diabetes Surgery, Endoscopic Thyroid Surgery, Thoracoscopy, Intragastric Balloon)
www.drrpadmakumar.com
Mobile: +919447230370, +919846320370
Email: drrpadmakumar@gmail.com
Past Chairman, Association of Surgeons of India - Kerala Chapter, 2019 - 2020
National President - Indian Hernia Society (2016)
GC Member, Association of Surgeons of India (2013 - 2018)
Vice President- Society of Endoscopic and Laparoscopic Surgeons of India
Jt. Secretary - Indian Association of Endocrine Surgeons (2016)
Founder Member, Obesity and Metabolic Surgery Society Of India
Founder Member, Association of Minimal Access Surgeons of India
International Faculty of IASGO on Hernia and Diabetic Surgery
International Faculty of IFSO on Diabetic Surgery
Associate Editor : Diabetes and Obesity International Journal
Metro Pillar No. 448, Edappally, Kochi
Tel: 9847296357 / +919645222401