Vitamin D Deficiency – Surgeon's Perspective
Vitamin D deficiency in a Surgeon's perspective is relevant in
Parathyroid surgery
Bariatric surgery
Gallbladder surgery
Primary hyperthyroidism
Author: Dr R Padmakumar et al.
Contents
Introduction:
Vitamin D is a fat soluble vitamin and produced by skin (from cholesterol) when exposed to ultraviolet B radiation ("sunshine vitamin") and also obtained from dietary sources, including supplements. Most important components, vitamin D3 (cholecalciferol) comes from fortified foods, animal foods (fish, eggs and liver) and can be made internally when skin is exposed to ultraviolet (uv) radiation from the sun and vitamin D2 (ergocalciferol)
Deficiency: 25 (OH) D levels below 12 ng/ml
Inadequate: 25 (OH) D levels between 12-20ng/ml
An adequate: 25 (OH) D levels between 20-50ng/ml
Excessive: 25 (OH) D levels over 50nglml
Excessive intakes of vitamin D can lead to high levels of calcium (hypercalcemia). The symptoms of this are weakness, confusion, constipation, loss of appetite and development of painful calcium deposits. To avoid this, advice to keep the supplement intake below the tolerable upper limits.
Functions:
The need for vitamin D goes way beyond preventing and treating rickets. Various researchers have claimed that vitamin D benefits are associated with the following:
Enhancing intestinal absorption of calcium and phosphorus
Prevention of osteoporosis and osteopenia
Allowing proper functioning of parathyroid hormone
Lowering blood pressure in people with hypertension
Lowering incidence and severity of cardiovascular disorders
Decreasing the incidence of type 2 diabetes: research has shown that those with blood vitamin D level over 25ng/ml had a 43% reduced risk of developing type 2 diabetes compared with those with levels under 14ng/ml
Decreasing inflammation: research has shown a decrease in levels of C-reactive protein , a marker of inflammation , with increased levels of vitamin D to just below 21ng/ml
Reducing risk of allergies in children and adolescents
Prevention of dental caries
Prevention and treatment of depression
Possibly helping with erectile dysfunction (ED)
Regulating cholesterol levels in the blood: it has been shown that without adequate sun exposure, vitamin D precursors turn to cholesterol instead of vitamin D
Decreasing mortality rate of certain cancers
Increase immunity
Deficiency in pregnancy may lead to gestational diabetes, pre eclampsia and small infants
Deficiency – Causes:
Inadequate sun exposure
Limited oral intake
Impaired intestinal absorption
Primary hyperparathyroidism
After bariatric surgery
After Gallbladder surgery
Parathyroid removal

Accidental during thyroid surgery
For parathyroid adenoma or hyperplasia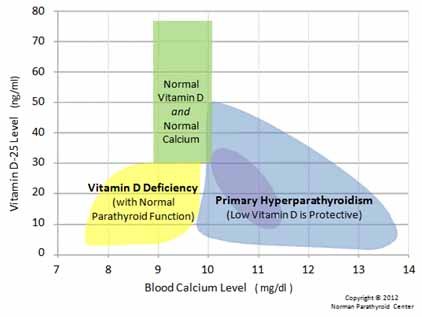 Correlation of calcium level in vitamin D deficiency
If parathyroid function is normal
When primary hyperparathyroidism
In vitamin D deficiency due to reduced oral intake or reduced sun exposure ,Vitamin D level and calcium level will be low with normal parathyroid function. Calcium level will be high and vitamin D will be low when primary hyperparathyroidism exists.
Primary hyperparathyroidism
There is high calcium level in the blood
May present with parathyroid tumor
High PTH takes calcium from the bone and shut down calcium absorption
There will be low vitamin D
Obesity and After Bariatric Surgery
Research has begun to show a relationship between BMI and vitamin D deficiency. A study done on 2,187 overweight and obese subjects, found that those with a BMI above 40 had 18% lower serum vitamin D levels than those with a BMI under 40. Some possible reasons for this are lower intakes of vitamin D , less exposure to sunlight (uv) radiation and a higher distribution volume of vitamin D . Even with exposure to sunlight, there remains a risk for deficiency.
Morbid obese patients have a higher incidence of high PTH and low vitamin D even before surgery compared with normal individuals.
In gastric bypass: low calcium absorption due to bypassed duodenum and jejunum may be the cause.
In sleeve gastrectomy the vitamin D and calcium level are maintained within normal limits compared to bypass surgery.
Bariatric Surgery
Bariatric Surgery deals with the study of obesity, the causes, prevention and treatment of obesity. Different weight loss procedures are Laparoscopic Sleeve Gastrectomy, Roux-en-Y Gastric Bypass. Intragastric Balloon Placement is a non-surgical weight loss procedure.
Gallbladder Disease and Vitamin D Deficiency
Low vitamin D may cause gallbladder stone formation
Gall bladder removal may reduce vitamin D and magnesium levels. This may be due to reduced absorption of fat soluble vitamins (D, E, A and K).
People with compromised liver or digestive function are often vitamin D deficient. Exposure of skin to the sun's UVB rays enables body to manufacture vitamin D. However, this process occurs in the liver and kidneys. Here people with a sluggish liver often do not manufacture vitamin D adequately.
Gallbladder Surgery

The gallbladder is an organ that helps in the digestion process. Gallstones is a common cause of Gallbladder disease. Laparoscopic Cholecystectomy is a procedure performed to remove the gallbladder from the body
Read More
Treatment
Sun rays exposure
Increased oral supplements
When the blood level of vitamin D is below 30 ng/ml, a minimum of 1,000 IU/day will be needed for children and 1,500 to 2,000 IU/day of vitamin D3 for adults.
Another rule of thumb is for every 1 ng/ml increase in blood level one need is an additional 100IU/day.
In obese patients , with malabsorbtion syndromes and patients on medications affecting vitamin D metabolism, it is advised to have a higher dose (two to three times higher , atleast 6,000-10,000IU/day) of vitamin D to treat deficiency to maintain a 25(OH)D level above 30ng/ml, followed by maintenance therapy of 3,000-6,000IU/day.
After parathyroid removal , may be wise to have a concomitant replacement of vitamin D with calcitriol (0.25-1mcg/day). Dependence on calcium supplementation for more than 6 months shows permanent hypoparathyroidism; which will necessitate continued use of such medications.
About Dr. R. Padmakumar
Dr. R. Padmakumar is one of the Best Hernia Surgeon in India. He has been changing lives through Keyhole Surgery. He has got more than 30 years of hands-on experience in laparoscopic Surgery in major hospitals across India and has completed more than 7000 cases of Laparoscopic Hernia Surgeries. Dr. Padmakumar has trained more than 300 surgeons from all over the world the art of laparoscopic surgery especially Laparoscopic Hernia Surgery. Dr. Padmakumar is also hailed as one of the Best Bariatric Surgeon in India & UAE. He is renowned for new and improved treatment techniques and the first in the World to perform Scarless Bariatric Surgery with Tummy Tuck / Abdominoplasty. He is also one of the very few thyroid surgeons in India doing Endoscopic Thyroidectomy (scarless thyroid surgery).