Thyroid Surgeon India
Thyroid Surgeon India – Dr. R Padmakumar is an expert Thyroid Surgeon and one of the Best Thyroid Surgeons in India, who is highly skilled in performing Endoscopic Thyroidectomy.
Dr. R. Padmakumar was invited by the Government Hospital in Dubai for endoscopic thyroid surgeries. Generally, these invitations as International visiting doctors to operate in Dubai Hospital is extended to reputed surgeons from US, UK, Germany, etc, but usually inviting doctors from India is very rare. Dr. Padmakumar was invited directly by Dubai Health Authority.
Dr. Padmakumar at Dubai Hospital for Endoscopic Thyroid Surgery
Dr. Padmakumar visits Sultan Qaboos University in Oman as faculty for Endoscopic Thyroid Surgery
Endoscopic Thyroidectomy
Dr. R. Padmakumar is one of the few surgeons in the world doing Endoscopic Thyroidectomy. In Endoscopic Thyroidectomy the surgeon removes the thyroid through small skin incisions made at the axilla. An endoscope with a video camera at the tip is inserted via the axilla allowing the surgeon to get a magnified view of the internal structures. The main advantage of performing thyroidectomy endoscopically is that it avoids a large cut to the neck.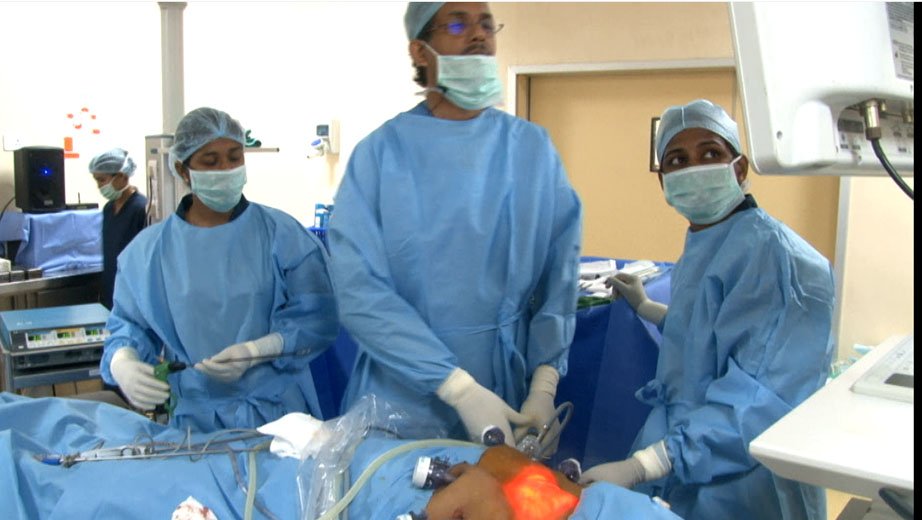 Dr. Padmakumar performing Endoscopic Thyroidectomy
Endoscopic Thyroidectomy can be used for both Total Thyroidectomy and Hemithyroidectomy.
In Endoscopic Total Thyroidectomy the entire thyroid gland is removed endoscopically. Thyroidectomy is usually performed when there is suspicious thyroid nodules or in case of thyroid cancer or large goiter.
In Hemithyroidectomy, half of the thyroid gland is removed.
However for patients in whom endoscopic thyroidectomy is not possible Open Thyroidectomy will be performed. In open thyroidectomy, the thyroid surgery is performed in the traditional way by making an incision at the neck through which the thyroid is removed.
Dr. R. Padmakumar performs various Endoscopic Neck Surgeries.
Endoscopic Parathyroid Surgery.
Parathyroid glands are four tiny glands that is located just behind the thyroid gland. They control the body's calcium levels. Removal of parathyroid glands become necessary in case of parathyroid tumor or overactive parathyroid glands.

Endoscopic Neck dissection / Lymphadenectomy.
Lymphadenectomy is a surgical procedure to remove one or more lymph nodes.

Endoscopic Thyroglossal Cyst Excision.
Thyroglossal cyst is an irregular neck mass or a fluid filled pocket which lies in the front part of the neck, usually above the voice box.

Endoscopic Salivary Gland Excision.
Salivary glands are endocrine glands that produce saliva. There are three major salivary glands that are paired, parotid, submandibular, and sublingual.

Endoscopic Neck Lipoma Excision.
Lipomas are lumps under the skin that occurs because of overgrowth of fat cells. These are usually considered benign tumors. It becomes necessary to remove lipomas in case it causes pain or other complications or symptoms.

Endoscopic excision of Branchial Cyst.
Branchial cyst or branchial cleft cyst is a lump that develops on one or both sides of a child's neck. It is a type of birth defect.

Endoscopic assisted excision of Ectopic Goiter.
Dr. R. Padmakumar as the best thyroid surgeon in Kerala is presently the Head of the Department of Minimally Invasive Surgery at VPS Lakeshore Hospital situated in Kochi and today it is the best hospital for thyroid surgery in India. He is the Chairman and Managing Director of Keyhole Clinic, best center for outpatient thyroid surgery consultations in Kerala.
Video Talks – Related to Endoscopic Thyroidectomy
About Dr. R. Padmakumar
Dr. R. Padmakumar is one of the Best Hernia Surgeon in India. He has been changing lives through Keyhole Surgery. He has got more than 30 years of hands-on experience in laparoscopic Surgery in major hospitals across India and has completed more than 7000 cases of Laparoscopic Hernia Surgeries. Dr. Padmakumar has trained more than 300 surgeons from all over the world the art of laparoscopic surgery especially Laparoscopic Hernia Surgery. Dr. Padmakumar is also hailed as one of the Best Bariatric Surgeon in India & UAE. He is renowned for new and improved treatment techniques and the first in the World to perform Scarless Bariatric Surgery with Tummy Tuck / Abdominoplasty. He is also one of the very few thyroid surgeons in India doing Endoscopic Thyroidectomy (scarless thyroid surgery).