Inguinal Anatomy with Peritoneum Incised
After the peritoneum is dissected away, six additional structures need to be identified. They are
Pubic crest (Lighthouse sign),
Iliopubic tract,
Cooper's ligament,
Femoral canal
Obturator nerve and
Internal inguinal/ spermatic ring
Pubic Crest:
It helps in getting orientation. Beware of small veins overlying. If they bleed entire vision gets spoiled.
Iliopubic Tract:
The iliopubic tract is a thick fibrous white tract which runs from the superior pubic ramus to the anterior superior iliac spine.
The iliopubic tract separates the inguinal region from the femoral canal.
Sutures or tacks should never be placed below the level of the iliopubic tract laterally
Cooper's Ligament:
This ligament is a condensation of the transversalis fascia and periosteum located lateral to the pubic symphysis. It is densely adherent to the pubic ramus and joins the iliopubic tract and lacunar ligaments at their medial insertions. This ligament is used to anchor the mesh in huge direct hernias.
Mobilizing adipose tissue around the Cooper's ligament can injure an aberrant obturator artery, which might course over it. Injury to this vessel results in distressing bleeding. This unfortunate morbidity has resulted in the naming of this vessel Corona mortis (crown of death).
Femoral Canal:
It denotes the potential site of origin of a femoral hernia. The canal lies posterior to the iliopubic tract.
Obturator Nerve:
It courses in the lateral pelvic wall. Mesh placement should extend up to that region. It helps to take care of obturator hernias, especially in elderly.
Internal Inguinal Ring:
Denotes the site of origin of an indirect inguinal hernia. The most reliable indicator of the internal ring is the junction of the testicular vessels and the
spermatic cord in a male and entry of round ligament in a female.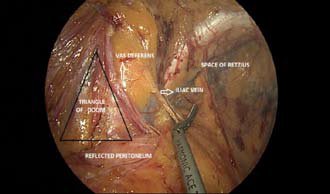 Different Types of Hernias
Umbilical hernia
Incisional hernia