Obesity Overview
Obesity Overview: Obesity is a global pandemic. Management of obesity needs a very comprehensive approach by a dedicated team.
Bariatric deals with Obesity. "Baros" is a Greek word which means heavy or large. Bariatric surgery is also referred to as "weight loss surgery" and is performed on people who suffer from obesity. It includes a variety of procedures like Intragastric Balloon Placement, Laparoscopic Sleeve Gastrectomy, various gastric bypass surgeries, and Sleeve with Hybrid Ileal Interposition. These procedures have proven to be effective in long-term weight reduction, resolution of diabetes, improvement in cardiovascular risk factors and obstructive sleep apnea, etc.
BMI = Weight (kg) / Height (m)2
WHO guidelines 2019 for adults over 20 years old
| BMI (kg / m2) | Nutritional status |
| --- | --- |
| Below 18.5 | Underweight |
| 18.5–24.9 | Normal weight |
| 25.0–29.9 | Pre-obesity |
| 30.0–34.9 | Obesity class I |
| 35.0–39.9 | Obesity class II |
| Above 40 | Obesity class III |
Pediatric BMI Criteria
For children BMI is calculated and compared with Z score for age.
Children: Other than Indian (Click to view)
https://www.who.int/tools/growth-reference-data-for-5to19-years/indicators/bmi-for-age
Boys – Indian
5-18 years: IAP Boys Body Mass Index Charts (Click Link Below)
https://iapindia.org/iap-growth-charts/
Girls – Indian
5-18 years: IAP Girls Body Mass Index Charts (Click Link Below)
https://iapindia.org/iap-growth-charts/
Z score more than 1.64 or BMI more than +2 SD is considered as obese.
Z score more than 1.04 or BMI more than +1 SD is considered as
Overweight.
Thinness is less than -2 SD.
Asian BMI criteria:
Asian BMI Cut-off points :
More than 25 BMI – Clinical obesity
More than 27.5 BMI – Metabolic Surgery can be performed
(2022 American Society of Metabolic and Bariatric Surgery (ASMBS) and
International Federation for the Surgery of Obesity and Metabolic Disorders (IFSO)
Indications for Metabolic and Bariatric Surgery
Dan Eisenberg, Scott A. et.al. iObesity Surgery volume 33, pages3–14 (2023))
Causes of obesity and overweight
It is due to an imbalance between energy in and energy out. An increased intake of energy-rich foods that are high in fat and sugars and a reduction in physical activity due to the sedentary nature of work make the body switch over to energy saving mode. Genetic factors also play a role in causation of obesity. Excess production of Ghrelin also is a contributing factor.
METABOLIC SYNDROME
Metabolic syndrome is a clustering of at least three of the following five medical conditions: abdominal obesity, high blood pressure, high blood sugar, high serum triglycerides, and low serum high-density lipoprotein (HDL).
Metabolic syndrome is associated with the risk of developing cardiovascular disease and type 2 diabetes. In the U.S., about 25% of the adult population has metabolic syndrome, a proportion increasing with age, particularly among racial and ethnic minorities.
Insulin resistance, metabolic syndrome, and prediabetes are closely related to one another and have overlapping aspects. The syndrome is thought to be caused by an underlying disorder of energy utilization and storage.
Each Propels the Other
Diagnostic Criteria of Metabolic Syndrome
Patient has at least three of the five conditions
Fasting glucose ≥ 100 mg/dL (or receiving drug therapy for hyperglycemia)
Blood pressure ≥ 130/85 mmHg (or receiving drug therapy for hypertension)
Triglycerides ≥ 150 mg/dL (or receiving drug therapy for hypertriglyceridemia)
HDL-C < 40 mg/dL in men or < 50 mg/dL in women (or receiving drug therapy for reduced HDL-C)
Waist circumference ≥ 90 cm (35 in) in men or ≥ 80 cm (32 in) in women

Minor Components
Sleep apnea
NASH
PCOD
Hirsutism
Acanthosis nigricans
Xanthelasmas
Image showing Acanthosis nigricans
Causes:
1) Insulin resistance with fatty acid influx.
2) Low grade chronic inflammation and oxidative stress.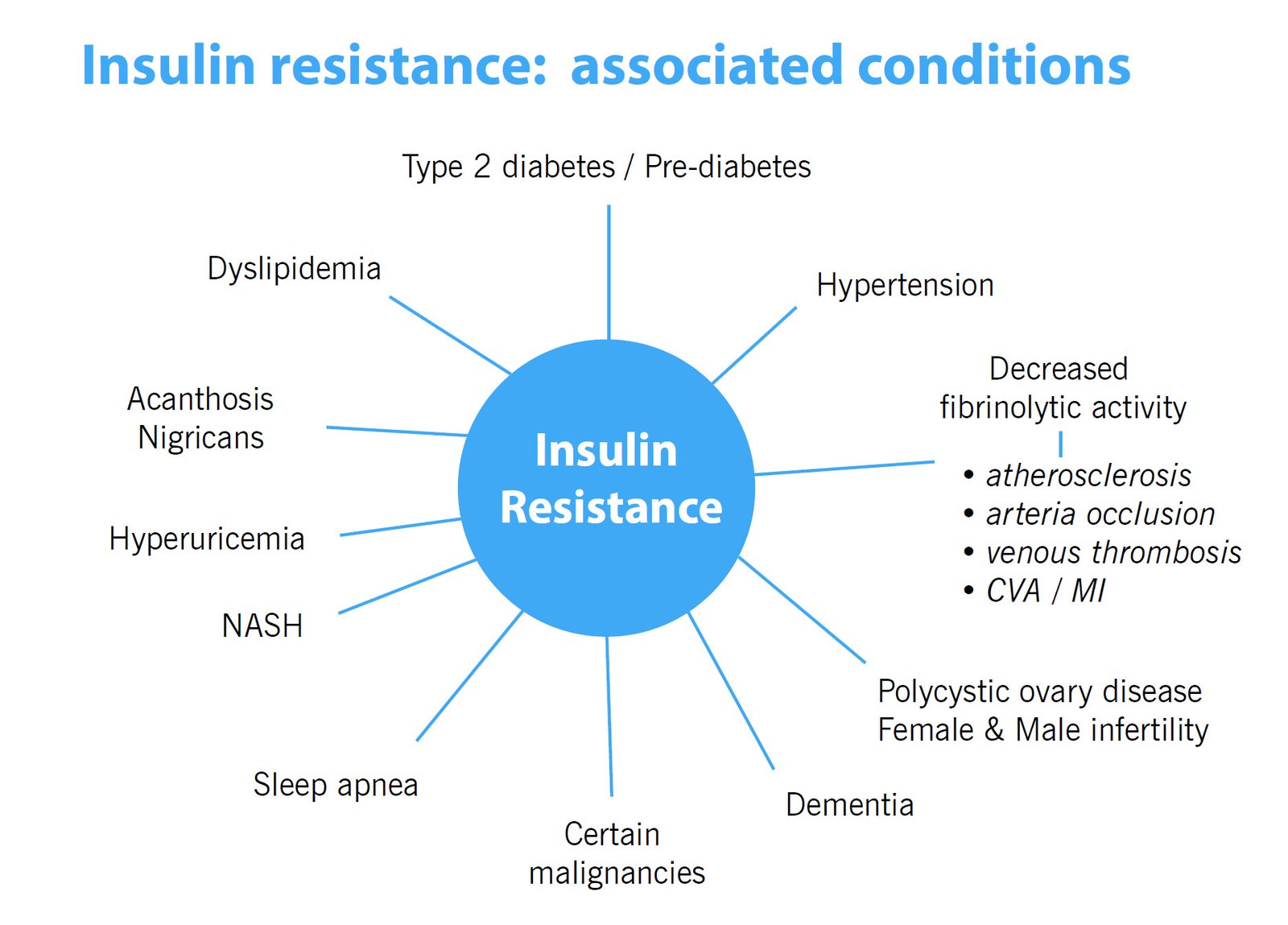 Deleterious effects of Diabetes Mellitus
Vascular damage:
micro-vascular (retinopathy; nephropathy and neuropathy)
macro-vascular (premature and more extensive cardio- , cerebro- and peripheral vascular disease)
Premature mortality and morbidity in diabetes result from such complications.
The Dangerous Cluster of Metabolic Syndrome
It varies between 7.1 to 42.6 % across counties, 26.1 to 29.8 % in South Asia
3 times likely to have MI and stroke
Five fold risk of developing type 2 diabetes mellitus
Reference – https://doi.org/10.1016/j.cegh.2020.03.018
Health consequences of overweight and obesity
Obesity increases the risk of many diseases like
Type 2 diabetes, hypertension, dyslipidemia;
Cardiovascular diseases and stroke, which were the leading cause of death in 2012;
Musculoskeletal disorders (osteoarthritis);
Cancers (endometrial, breast, ovarian, and colon).
Liver and gallbladder disease
Obstructive Sleep Apnea
Infertility
Psycho-social disorders
Childhood obesity is a growing concern as these children have an increased risk of insulin resistance, hypertension, breathing difficulties, fractures, and psycho-social problems as well as later in adulthood, have a higher chance of obesity and even premature death.
Treatment for Obesity
The first-line treatments for obesity and overweight include diet, exercise, behaviour therapy, and anti-obesity drugs. But for severe obesity this has limited success and success for long term is very poor. Whenever a patient approaches for weight loss, the screening form is filled and investigations are carried out. Procedure is planned based on BMI, comorbidities, and the investigation results.
About Dr. R. Padmakumar
Dr. R. Padmakumar is one of the Best Hernia Surgeon in India. He has been changing lives through Keyhole Surgery. He has got more than 30 years of hands-on experience in laparoscopic Surgery in major hospitals across India and has completed more than 7000 cases of Laparoscopic Hernia Surgeries. Dr. Padmakumar has trained more than 300 surgeons from all over the world the art of laparoscopic surgery especially Laparoscopic Hernia Surgery. Dr. Padmakumar is also hailed as one of the Best Bariatric Surgeon in India & UAE. He is renowned for new and improved treatment techniques and the first in the World to perform Scarless Bariatric Surgery with Tummy Tuck / Abdominoplasty. He is also one of the very few thyroid surgeons in India doing Endoscopic Thyroidectomy (scarless thyroid surgery).