Inguinal Region – Anatomy, Peritoneal Landmarks, Infraumbilical Fossae – Part 1
Anatomy of the Inguinal Region
The 'Myopectineal Orifice of Fruchaud'
All groin (inguinofemoral) hernias originate in a single weak area called the myopectineal orifice. This oval, funnel-like, 'potential' orifice formed by the following structures, makes the 'myopectineal orifice of Fruchaud'.
-Henry Fruchaud
Boundaries
Superiorly Internal oblique and transversus abdominis muscles.
Inferiorly Superior pubic ramus.
Medially Rectus muscle sheath.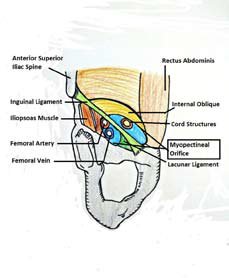 The Peritoneal Landmarks
Median Umbilical Ligament:
This ligament ascends in the median plane from the apex of the bladder to the umbilicus. It represents the obliterated allantoic duct and its lower part is the site of the rare urachal cyst.
Medial Umbilical Ligament
This ligament represents the obliterated umbilical artery on each side and can be traced down to the internal iliac artery.
Lateral Umbilical Ligament
It is the ridge of peritoneum, which is raised by the inferior epigastric vessels.
These ligaments delineate the infraumbilical fossae
The Infraumbilical Fossae
These fossae are important for surgeons-
Delineate the sites of groin herniation.
An important landmark for orientation during hernia repairs.
Supravesical fossae:
The infraumbilical area between the median and medial umbilical
ligaments. This is the site for the origin of the supravesical hernia.
Medial Umbilical fossae:
The infraumbilical area between the medial and lateral umbilical
ligaments. This is the site for the origin of the femoral and direct inguinal hernia.
Lateral Umbilical fossae:
The infraumbilical area lateral to the lateral umbilical ligament. This is
the site for the origin of the indirect inguinal hernia.
Hesselbach's Triangle (by Franz Caspar Hesselbach)
1.
Superolateral boundary
Inferior epigastric vessels
2
Medial boundary
Rectus sheath
3.
Inferior boundary
Cooper's ligament/
Inguinal ligament
It is the site for direct hernia
Iliopubic Tract
The iliopubic tract is a thickened lateral extension of the transversalis fascia, which runs from the superior pubic ramus to the iliopectineal arch and the anterior superior iliac spine. It is intimately associated with the inguinal ligament. It is anterior to the Cooper's ligament and posterior to the inguinal ligament. The iliopubic tract separates the internal ring from the femoral canal. It is visualized as a fibrous (white) tract.
About Dr. R. Padmakumar
About Dr. R. Padmakumar
Dr. R. Padmakumar is one of the Best Hernia Surgeon in India. He has been changing lives through Keyhole Surgery. He has got more than 30 years of hands-on experience in laparoscopic Surgery in major hospitals across India and has completed more than 7000 cases of Laparoscopic Hernia Surgeries. Dr. Padmakumar has trained more than 300 surgeons from all over the world the art of laparoscopic surgery especially Laparoscopic Hernia Surgery. Dr. Padmakumar is also hailed as one of the Best Bariatric Surgeon in India & UAE. He is renowned for new and improved treatment techniques and the first in the World to perform Scarless Bariatric Surgery with Tummy Tuck / Abdominoplasty. He is also one of the very few thyroid surgeons in India doing Endoscopic Thyroidectomy (scarless thyroid surgery).